QHYCCD QHY5-III-185C 2MP 3.75um Color CMOS Telescope Astrophotography Camera (Discontinued)
1 In Stock - Ships Today if Ordered by 2pm EDT! (Mon - Fri)
$372
$339

CAD
( On Sale! You Save: $33 )
We will price-match in-stock Canadian astronomy dealer pricing
This camera is discontinued - we have 1 left, once it's gone they won't be replaced.
QHY5III185 is the USB 3.0 planetary camera, great also as autoguider, equipped with a sensitive color CMOS sensor Sony IMX185 with large dimensions (7,2mm x 4,5mm) and high resolution (1920 x 1200). The high-speed USB 3.0 connection allows you to record up to 96 images per second at full resolution!
These features make it perfect for people looking for the best camera for planetary and lunar/solar imaging but also for those searching for a sensitive guide camera: it's perfect thanks to integrated ST4 port (which allows direct connection to mounts).
The QHY5III185 camera uses the IMX185 color sensor that has the same pixels dimensions (3.75 microns) of QHY5III224 camera but with higher resolution so the sensor is bigger. Thanks to a very low readout noise and high sensitivity, also in the infrared, the QHY5III185 is one of your best choices for color planetary imaging.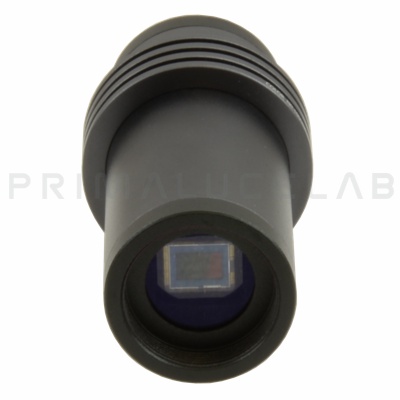 QHY5III 185C: use as
planetary camera
The QHY5III185 uses the latest generation Sony IMX185 color sensor. This sensor offers great technical specifications:
- large dimensions 7,2mm x 4,5mm, diagonal 8.5mm
- high resolution 1920 x 1200 pixel
Thanks to electronics with USB 3.0 connection to control PC, the QHY5III185 allows you to record many images per second (up to 90 fps at full resolution - note: the recorded fps number also depends on the control PC speed). So you can get video composed of more images that, processed with special software for astrophotography, enable you to achieve better results!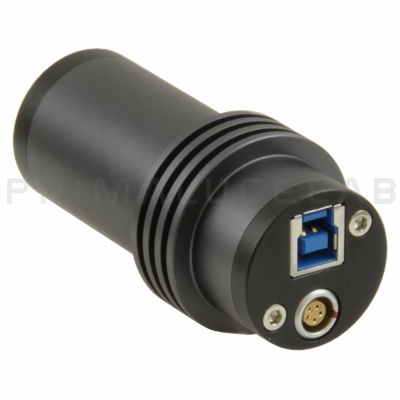 QHY5III 185C: use as 
autoguider
These advanced technical features make it perfect not only as a planetary camera but also for those looking a sensitive guide camera. It has a built-in ST4 port (with LEMO connector, known to be very robust - the ST4 guide cable on the mount side instead has the classic connector for connection to the most popular mounts) that allows direct connection to the mount. In addition, the high quantum efficiency makes the camera very sensitive and therefore it will be easier to find the guide stars.
QHY5III 185C: sophisticated design
The QHY5III185 camera has the design of the previous QHY5II series, with 31.8mm diameter accessory shape. In this way QHYCCD got better efficiency in heat transfer to the outside of the camera body. This particular design also provides a very low back focus makes the camera ideal for off-axis guiders.
What's the in Box

- QHY5III185 camera
- USB cable for PC connection
- ST4 cable for autoguide
- Parfocal ring
- C-31.8mm nose
Model: QHY5III185
CMOS Sensor: IMX185
Pixel Size: 3.75um
Pixel Array: 1920*1200
Effective Pixels: 2 Megapixels
Sensor Optical Format: 1/1.9-inch
Frame

 

Rate@Full

 

Frame: 96FPS
Frame rate @ROI readout: 

112FPS@1280x1024
185FPS@800x600
227FPS@640x480
413FPS@320x240

Ful Well Capacity: TBD
Readout Noise: TBD
A/D : 12-bit
Shutter Type: Electric Rolling Shutter
Color Version: QHY5III185C
Mono Version: N.A
Computer Interface: USB3.0
Guide Port: Standard 6-pin RJ11 Guide Port
Telescope Interface: 1.25-inch, CS mount
Weight: 86g
Questions & Answers
Have a Question?
Be the first to ask a question about this product